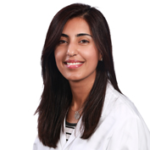 ---
---
Languages spoken:
English, Urdu
---
Address:
Mediclinic City Hospital, Dubai
health care city - Dubai - United Arab Emirates
---
Professional Statement:
Dr. Zainab Malik is a pediatrician with a background in pediatric infectious diseases. Her expertise extends beyond the management of general pediatric issues to other common and uncommon infectious diseases in childhood, including travel medicine/vaccinations and infections in the returning traveler including malaria, typhoid fever, tuberculosis, dengue fever, hepatitis and others. She holds a Masters Degree in Clinical Research Methods with distinction, from the Albert Einstein College of Medicine in New York, where her research thesis evaluated host immune responses to Human Papillomavirus infection in young women.
She has published extensively in leading peer reviewed medical journals, and has received several travel awards to present her research at leading medical conferences in the U.S. She is certified by the American Board of Pediatrics and the American Board of Pediatric Infectious Diseases.
She is a reviewer for \\\'Pediatrics\\\', the official journal of the American Academy of Pediatrics; and for the Southern Medical Journal. Dr. Malik holds professional memberships to the American Academy of Pediatrics (AAP); Infectious Disease Society of America; Pediatric Infectious Disease Society; and the AAP Section of Young Physicians.