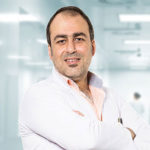 Dr. Bassam Noah
Speciality(s):
General Surgeon, Laparoscopic Surgery
Title:
Consultant General & Laparoscopic Surgeon
+971 4 3420000,
bassam.noah@nshdubai.com
---
Education:
German Board of General Surgery
PhD in Trauma Surgery
Member of the International Federation for Surgery of Obesity and Metabolic Disorders
Certified Emergency Medicine Specialist –Saxony- Germany
Internship Anesthesiology and Intensive Care Medicine (ICU)
---
Languages spoken:
Arabic, DEutsch, English
---
Address:
Neuro Spine Hospital
P.O.Box 71444, Jumeirah Rd,Opp Jumeirah Beach Park Gate No 3 - Dubai - United Arab Emirates
---
Professional Statement:
German Board Certified General Surgeon with over 18 years of European experience in the field of General and Laparoscopic Surgery, Dr. Noah practiced in advanced centres such as the University of Leipzig and the Helios- Park Klinikum- Leipzig in Germany. He specializes in Minimally Invasive Surgical techniques and is also an expert in GI-Surgery including the management of Gastric and Colonic tumors. Dr. Noah is highly skilled in Endocrine Surgery, particularly in performing Thyroid surgeries under Neuro-monitoring. His experience in safe weight loss procedures contributes to improving outcomes of patients treated at NSH by relieving the pressure excess weight puts on joints and the spine.
Areas of Excellence
Thyroid Gland Surgery under Neuro Monitoring
Laparoscopic Surgery for all kind of Hernias, Gallbladder and Spleen
Breast Surgery for Benign conditions and Cancer including Breast Preserving Techniques
Laparoscopic or Open Colorectal Surgery
Endoscopy for Stomach and Colon (Gastroscopy and Colonoscopy)
Minimally Invasive Weight Loss management by Stomach Balloon Placement
Management of Hemorrhoids and Fistula
Vascular Surgery, Varicose Veins and implantation of IV ports
Skin surgery and wounds management especially in diabetes and bedridden patients
Conditions Treated
Vascular "Varicose and Spider Vein, Vascular Malformations, Venous Ulcerations"
Bariatric (Weight-Loss) "Metabolic Syndrome, Obesity"
Biliary Tract "Bile Duct Cancer (Cholangiocarcinoma)"
Colorectal "Bowel Obstruction, Colon Cancer, Crohn's Disease, Diverticulitis, Fecal Incontinence, Hemorrhoids Inflammatory, Bowel Disease, Pelvic Floor Dysfunction, Presacral Tumors, Rectal Cancer, Ulcerative Colitis"
Endocrine "Hyperthyroidism, Thyroid Nodules
Gastroesophageal "Hiatal Hernia"
Hernia "Complex Abdominal Wall Hernias, Epigastric & Umbilical Hernias, Femoral (Thigh) Hernia, Flank (Lumbar) Hernia, Giant Abdominal Wall Hernia, Inguinal Hernia, Parastomal Hernia, Recurrent Hernia, Spigelian Hernia, Ventral (Incisional) Hernia"
Liver "Liver Cysts"
Skin Cancer "Melanoma, Merkel Cell Carcinoma"
Stomach "Gastric (Stomach) Cancer'