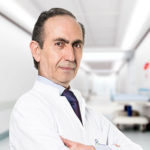 Dr. Ahmad Bitar
Speciality(s):
Brain Surgery, Neurosurgery
Title:
Brain & Neurosurgeon, Head of Brain & Vascular Neurosurgery Unit
+971 4 3420000,
ahmad.bitar@nshdubai.com
---
Education:
French Board of Neurosurgery
European Board in Neurosurgery – European Association of Neurosurgical Societies (EANS)
Permanent Member of French Neurosurgical Society
University Diploma in Pain Management. University Paris VII
University Diploma in Neuroanatomy. University Paris V
University Diploma in Neurophysiology. University Paris VI
Past Lecturer at the faculty of Medicine in Neuroanatomy. University Paris VI
Lecturer Of Neurology and Neurosurgery at Nursing Schools of Paris Hospitals
Chairman of Franco-Syrian Medical Congress
---
Languages spoken:
Arabic, English, French
---
Address:
Neuro Spine Hospital
P.O.Box 71444, Jumeirah Rd,Opp Jumeirah Beach Park Gate No 3 - Dubai - United Arab Emirates
---
Professional Statement:
French Board Certified Neurosurgeon with over 35 years of experience in the field of Brain Surgery, he is leading the Brain Unit at the Neuro Spinal Hospital since he joined in 2013. His expertise allows him to address the most complex brain procedures with utmost confidence. He is the only surgeon in the UAE performing Awake Brain Surgery for brain tumors ensuring optimal resection of the tumor without affecting brain functions. Dr. Bitar gained his experience as the Lead Neurosurgeon at Pitie Salpetriere Hospital in Paris, one of the biggest Neurosurgical Departments in France.
Areas of Excellence
Special experience in Awake Brain Surgery with Brain Mapping for Brain Tumors in highly functional area
Brain vascular microsurgery for Brain Aneurysms and Arterio-Venous Malformations
Management of Trigeminal Neuralgia by Radio frequency Thermocoagulation or surgical treatment.
Spinal Cord Tumors surgery
Conditions Treated
Brain Tumors, Brain Aneurysms & Vascular Malformations, Trigeminal Neuralgia & facial Spasm, Congenital Skull Malformations in children and Head Injuries.